Have you ever just had your ego go from through the roof, down through the floor in a matter of seconds?
On my commute home this past Friday, an Avril Lavigne song came out and I was rocking out. The song was 'Girlfriend'. Y'all 'member the lyrics. They go: "Hey, hey. You, you. I don't like your girlfriend!"
The year was 2008. My school had made the trek to the church on the north side of Flint to experience a mass in Spanish. Afterwards we were all treated to a lunch that was made by the ladies from the church. During that lunch, I couldn't find a spot to sit as the tables were all full.
I walked up to the teachers that I was without a seat, so they asked the group of girls that were in my class if it was OK that I sit with them.
They obliged and I took a seat.
In my 13 year old mind, this like heaven. I could flirt with everyone without having to go very far. The unfortunate part, was that my "ex-girlfriend" was sitting at that very same table.
They were all talking and I just sat there without saying a word. Suddenly, said ex stands up, and leans towards me, and shouts a modified version of Avril Lavignes "Girlfriend" lyrics.
"HEY, HEY. YOU, YOU. I DON'T LIKE YOUR FACE!"
All the girls started laughing, and I was speechless. I'd never not had a comeback before. My stomach sank, and my 13 year old ego was shot to hell. If my reaction could be summed up in a gif, it would be this one.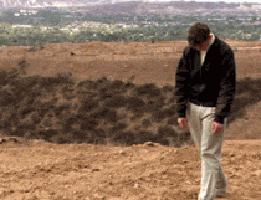 She delivered a devastating blow. I moped around the school for the rest of that day. Believe me when I tell you this. Teenage boy egos are very fragile, especially those who fancy themselves a "hot shot". That one line almost killed me.
The joke was on her though, because we ended up getting back together at the end of the year.